Draven Rodriguez, a high school student at the Schenectady High School in Schenectady, New York, wants the above photo to be used as his official high school yearbook photo. And to get his wish, he has set up an online petition to do so.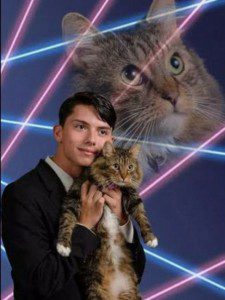 He says, in the online petition, that "the school HAS NOT YET DECLINED this photo. This is his pre-emptive strike just in case such a thing were to happen. He wants as many backers as possible before the deadline of September 15th."
The cat's name is Mr. Bigglesworth. So far, as far as we know, has not agreed to be in the photo, though.
Read more about this bad school photo:
Awesomest Cat High School Photo Ever Rejected
http://www.wfaa.com/story/news/nation/2014/09/11/awesomest-cat-high-school-yearbook-photo-ever-rejected/15489125/
Schenectady High School Senior Portrait Absurd
http://www.dailygazette.com/news/2014/sep/11/schenectady-high-senior-portrait-absurd/?free=